Puigdevall y Puigvert
Xefs at Les Cols** (Olot, Girona, Spain)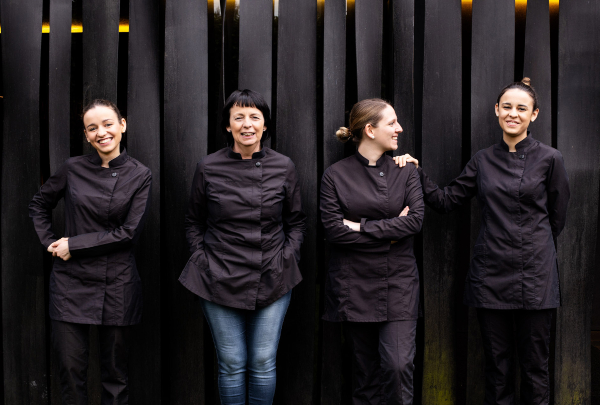 Fina, Martina, Clara and Carlota. Four women who share the same philosophy of gastronomy – one that embraces a landscape, a story and the produce they serve.
Since 1990, Fina Puigdevall has been at the helm of Les Cols, a restaurant located in the masía farmhouse where she was born. Here, she has made her personal project come true; it is also where she has raised her family. Her daughters, Martina, Clara and Carlota, are following in the footsteps of Fina and her husband, Manel Puigvert, in a business that is second nature to them, and in communion with the surroundings. They highlight local produce from the La Garrotxa region: buckwheat, potatoes from the Vall d'en Bas, corn, local poultry, beans from Santa Pau, ratafía, chestnuts, turnips, wild mushrooms, etc.
The generational changeover is taking place at Les Cols in the same natural way that the seasons of the year merge with each other. Martina, head chef, has a degree in Gastronomy and Culinary Arts from the Basque Culinary Center, and did internships at Lúa (Madrid), Koy Shunka (Barcelona), Blue Hill at Stone Barns (USA) and Gustu (Bolivia). Clara, who started out studying humanities (she has a degree in English and Italian from the University of Barcelona, and in Art History from the University of Girona), succumbed to the world of wine and the restaurant's front of house. While Carlota, who is following in the footsteps of her sister Martina in the kitchen (she studied at the CETT in Barcelona and worked at Azurmendi with Eneko Atxa), specialises in confectionery and desserts.
Puigdevall y Puigvert