News
Ana Roš, Hideki Matsuhisa and Albert Boronat, the last speakers at Andorra Taste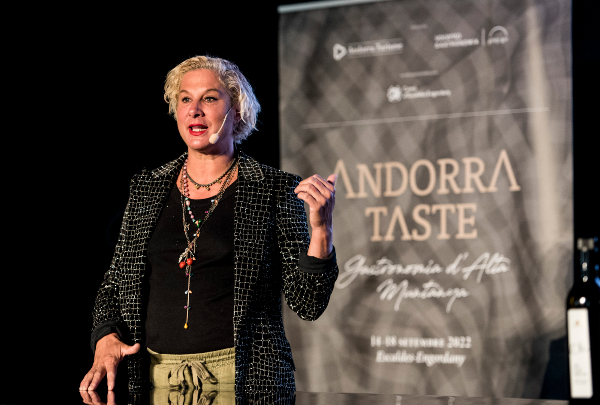 Trout shown off as the most popular fish in high-mountain cuisine. Six speakers from Andorra, Japan and Slovenia round off the talks on the last day of Andorra Taste Profesional.
One of the main attractions at Andorra Taste was Ana Roš. The World's Best Female Chef 2017 and chef at Hiša Franko** (Kobarid, Slovenia) twinned mountains in her talk before explaining how her restaurant started off with a mainly local focus: "At the beginning people came in and asked for sea bass. We told them: 'No, we have trout here'. And they left. But we believed in our offer, and we went on". So much so that she has become a chef of the ultra-local, in this case ultra-local in the Alps, because Hiša Franko (world's 34th best restaurant) is located at the foot of the easternmost Alps.

Rôs believes that "clean cuisine is still possible in the mountains", where crops "grow with a special, most characteristic taste, the taste of altitude". Special characteristics, because "being located where we're located, far from the cities, there was less influence, and the ingredients have been preserved with their original properties". The Slovenian chef finished off her talk with the claim that"high-mountain cookery is the future" because, among other issues, "our food cost is 30%, much lower than other restaurants. Mountain cuisine works with every part of animals and products".

From Slovenia to Japan, with a stopover in Andorra

Hideki Matsuhisa, the only Japanese chef with a Michelin star in Spain (Koy Shunka, Barcelona), added the Oriental touch to the congress, with some practical advice on how to make sushi, his speciality. Matsuhisa was at Andorra Taste because he has been running the Koy Hermitage restaurant at the Sport Hotel Hermitage & Spa since 2016. There his cookery is Japanese cuisine, which he adapts to the Principality with freshwater fish such as trout. He used this to produce a couple of makis, with some advice and points to bear in mind.

Among which, the importance of how the ingredients are handled: "If a sushi restaurant is good or bad it's nothing to do with the product, but how it's worked", he said as he knife-peeled a wasabi - and grated - in a circle, clockwise, "to break the fibres and bring out the taste". Matsuhisa homed in on the importance of the cut in sushi because "it can affect its taste"; on washing your hands in vinegar before handling the rice, and sharpening the knife properly before cooking.

In frontier territories

Albert Boronat arrived at the congress from a territory with similar characteristics to Andorra. Boronat is chef at the Ambassade de Llívia, in a Catalan town in French territory. "A remote village at an altitude of 1,200 metres, where I arrived almost by accident, because the idea was to set up a business in Andorra", he explained. And he went on: "I had spent 20 years working in France with Alain Ducasse (where he became head chef at one of his restaurants), and I wanted to go back, but my wife didn't. The halfway point: Andorra. Eventually, due to bureaucratic issues, it didn't work out, and we found Llívia", which was also like having one foot in Spain and another in France.

Ambassade de Llívia emerged as a "cross-border" restaurant, using a French product with a Catalan technique or a Catalan product with a French technique. To demonstrate this, the chef produced his pâté en croûte - which came fourth in the 2018 World Pâté en Croûte Championship - put together with products from Catalonia's La Cerdanya, and Iberian "panceta" bacon.

Some more examples of his cooking: chicken galantine (the Catalan version, with black and white "butifarra"), and duck liver confit in its own stock. "I tell the French this is sangría wine. I tell the Catalans it's the warm wine so typical of southern France. It's the same thing, with some different criteria." Finally, trout, "a product in vogue again after a few bad years", which is left for an hour in salt and sugar "to firm up the flesh", and then seasoned with Canigó pine pepper (from the Catalan Pyrenees). On the floor it is then cooked on warm river stones with pine and thyme plants to summon up aromas, with an infusion.

South American passion

Aníbal Criollo (Naturalia, Nariño, Colombia) arrived from South America to extol the virtues of the La Cocha lagoon, sitting at an altitude of 2,200 metres in southeast Colombia, "a territory similar to Andorra". There, "where the Amazon begins", Criollo uses the "chagra" plantations to grow vegetables and tubers, "following the phases of the moon, with all due respect for nature, which everything comes from".

Magazine