News
History, scenery and new projects at Andorra Taste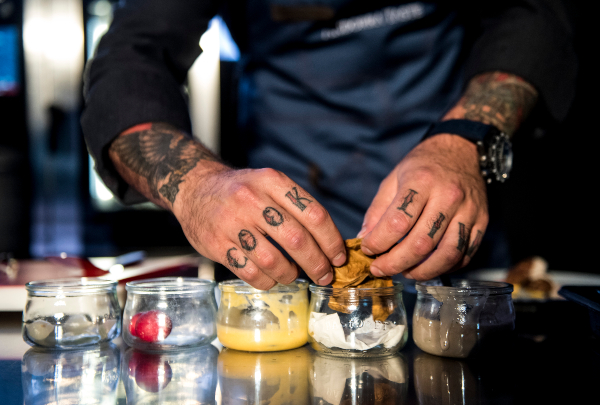 Francis Paniego and Jordi Grau make a stand for cookery as a tool to convey history, territory and identity. Rodolfo Guzmán gives us an explanation of the culinary usage of Chilean plants, and Nandu Jubany talks about Hincha, his latest gastronomy project with Leo Messi.

Francis Paniego and Jordi Grau, his right-hand man at Ibaya (Soldeu, Andorra), began his talk with an explanation of the similarities between La Rioja and Andorra. High-mountain cuisine, according to the chef, regardless of geographical coordinates, depends very much on seasonality, a concept which limits the larder and the culinary range. Autumn, the big moment for produce, is followed up by a winter with a dearth of raw materials, making the daily round in kitchens much more difficult.

Having explained the complexity of cooking in this kind of environment, the chefs moved on to cook six recipes focusing on territory, and also on history. Paniego feels history is essential for a reinterpretation of gastronomy. "It helps us understand the land around us, our surroundings. In the case of Andorra, which is influenced by Spain and France, we find concepts such as the mountain, rivers, tobacco-growing, contraband, religious fanaticism, cured meat, potatoes, memory, confits, "trementaires", dairy products and by-products, firs, rock, snow, wild mushrooms etc.". Concepts which will become the basis for Ibaya's recipes. This may be observed in the six recipes: Nettles (commonplace in the popular cookery of a bygone age); fresh grass (by way of a tribute to mountain walks); colt steak tartare (which uses tobacco instead of Tabasco to spice it up); "lapin au chocolat" rabbit stew (a tribute to the French influence); trout with ham (inspired by times in the past when people cooked whatever they had to hand or in the river); and "trementaires" (recreated from the labours of female plant gatherers). "Our modus operandi tries to construct the cookery of Andorra's soul, and to generate demand for local produce, boost the numbers of small producers, and so generate more wealth".

Rodolfo Guzmán, from Borago (Chile) was next on stage. The discovery of the Atacama desert's plants through Patricia Pérez, one of the congress speakers he works with, opened up a new culinary dimension for him, and he now applies this at his restaurant. "It's a chance to learn and cook better. We categorise and classify the territory through gastronomy", explains the chef. Guzmán gave up the names of some of his discoveries such as the fruit of the sugar-rich "chañar", the "rica rica", a plant with its own huge identity; the "come come" and the "cachiyuyo". "These plants have infinite possibilities in the culinary world", says Rodolfo. One of the plants that interests him most of the fruit of the "tola", because "we find it behaves in the same way as the "murtilla" plant. It has a special kind of flower, and the texture is like a berry", he says.

The role played by the mountain in Borago's cuisine is unquestionable, because climatology is a key factor. "We've found that there are five seasons, not four. The fifth is pre-spring, when we get specific fruit that is only available for one month, and that's how long they are on our menu", says the chef. "A lot of people think Chile is very warm, but, for example, due to our geographic location, our sea is at 10º in summer, which makes the taste of fish and sea food very intense".

The surroundings have been a marked feature of the restaurant's research and documentation, which began with the simple idea of everything they discovered, so that it would not be forgotten, and this has produced a clear culinary identity. "Our work is a permanent test of the momentum of Chile's territory. Our offer currently contains four lines: algae, rock recipes, the world of fungi, and wild pre-spring vegetables".

Nandu Jubany, the last speaker of the day, talked about his latest project at Andorra Taste: Hincha MiM, with footballer Leo Messi. It will be opening in Andorra, but the idea is for other outlets to be opened over time in Baqueira, Sotogrande, Sitges, Ibiza and Majorca. "The idea is not to take the same concept to all the different places, but for them to act as siblings". They will share the essence, but all of them will have their own personality, depending on the location.

The project has been in the pipeline for half a year, and its logo will be two raised hands. The restaurant will be a sober affair, decorated with old Andorra timber, marble and slate. The kitchen area will be visible, with a pizza kiln.

The gastronomy will mostly be based around meat. "There will be a refrigerated display case with meat from all over the world. No matured meat, because I don't like it. We may eventually bring in some fish or sea food, but we'll be concentrating on meat", says Jubany. Starters will be ceviches, raw fish "tiraditos", steak tartare, vegetables ... followed by pizzas - with a takeaway service - or local recipes. "We want recipes that can be shared, because getting together around a table is a share moment", adds Nandu. "The dessert will have a golden ball, to be broken by the customer", he says.

As for the liquid fare, there will be wine, along with a range of cocktails to wash down the food.

As he finishes up, he confesses: "There came a time at Can Jubany when I couldn't picture myself doing the same thing every day for my entire life. That's why we like to come up with new projects. It moves us. It's a way of creating work, helping your team to expand and make the business theirs, a business they can be satisfied with. And if it doesn't work, time to shut it down. It makes no sense to keep operating an unprofitable business. I'll learn, and open another one with another formula. I like to be at peace when I go to bed ". And his final shot: "You have to be honest with yourself, with your essence. I'm a worker, not a creator. That's why I search here and there, and I learn. My cookery is memory, grease, umami. I like simplicity too".

But Nandu's incessant business energy does not end with Hincha, because the chef has announced he will be opening a fifth restaurant in Formentera next year. Best of luck, chef!

Magazine