News
Traditional cooking and new influences on cuisine in Andorra today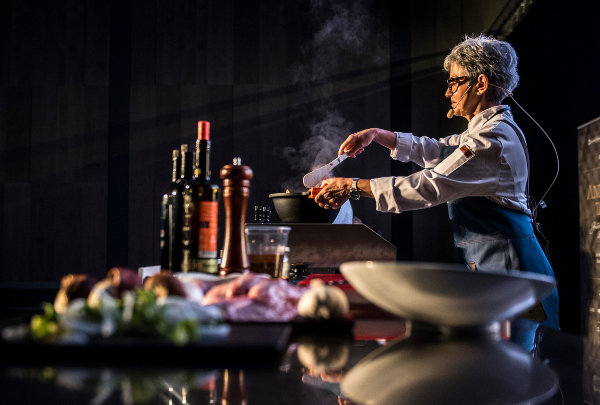 The Andorra chefs kicked off the third professional Andorra Taste conference. Traditional cooking and new influences sharing a stage and an objective: showcasing the gastronomy of Andorra's valleys.

Andorra demonstrated culinary muscle at the outset of the last day of the Andorra Taste congress. Dolors Pal and Josep Maria Troguet, a married couple who own the Borda Raubert restaurant (Encamp), were first on stage to discuss the Andorra "borda" and its role in the development of gastronomy in this mountainous country. Originally humble peasant constructions in the countryside or in the mountains to keep tools or cattle, the "bordas" have become strategic enclaves for the tourist and catering sector in Andorra. "Since they emerged they have been a feature of the daily lives of the people of Andorra", said Josep Maria Troguet, while his wife Dolors, in charge of the kitchens at Borda Raubert, cooked rabbit with boletus.

A high-altitude cooking game recipe, a habitual feature on the menus of these restaurants, former "borda" farmhouses, since "tourism came alive in Andorra in the 70s, and the lack of any proper catering outlets turned them into tourist attractions". But despite this change of orientation, they are still the guarantors of tradition and a way of life rooted in the mountains, and so the local cuisine "is just as it's always been, perhaps with some developments, but still retaining all its essence", according to the owner of Borda Raubert. And so the fare still features "escudella" stew, roast meat with saffron milk caps, Andorra meatballs and traditional cannelloni.

Cannelloni is the only recipe that has been on the menu of another of one of Andorra's most emblematic restaurants, El Celler d'en Toni (Andorra la Vella), for 58 years. An outlet which, although it is not a "borda", has continued to follow the wake of traditional cuisine since the Sasplugues family opened the restaurant in 1964. Now it is run by Marcel Besolí, who took over management five years ago with new ideas, but did not forsake what had already been achieved. Proof of this is the fact that Andorra's cannelloni are still a main feature of the menu, "market cuisine where selection of produce is a vital concern, meaning that chef/producer synergies are the basis of the way we understand gastronomy", explained Besolí.

At Andorra Taste, however, Andorra also wished to demonstrate that its catering sector also has room for new influences and new ways of understanding cookery. This was explained on stage by Victoria Kemerer and Pablo Pérez, respectively chef and sommelier at the Kökosnøt restaurant (Andorra la Vella). A young outlet with a team made up of several nationalities, creating a "melting-pot of cultures blending in with our cooking, which is fusion cuisine, not only gastronomically, but also culturally", according to Kemerer. And not the kind of fusion that forsakes the local surroundings, because the produce of Andorra and traditional cooking techniques are also catered for here, because "connection with the territory is crucial". They demonstrated this in their own cuisine, with a recipe based on the Pyrenees' white onion, "a humble product we work on with complex techniques", rounded off with shoots and flowers from the Andorra mountains to produce a colourful eye-catching dish "just like
the fields of these valleys, where we have more than 1,500 different types of flowers".


Magazine