News
Disfrutar's Andorra recipe and advice for Andorra from the leading lights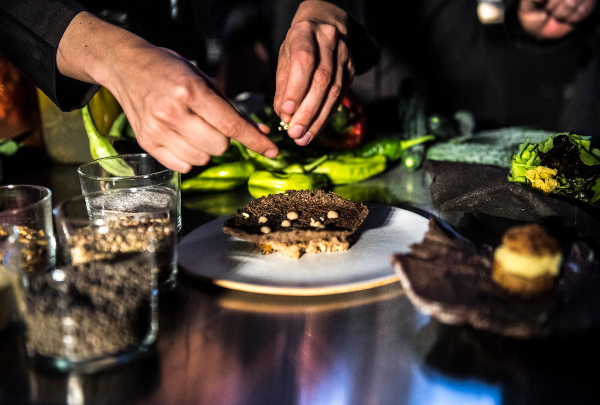 No disappointment from the Disfrutar** trio. In this case it was Oriol Castro who represented them in Andorra to update new features and ideas from the world's third best restaurant. Many of these had links to the country where the congress was being held. "When we were invited to Andorra Taste we had a think about what we had in common with Andorra, and we came up with wild mushrooms and boletus fungi as produce, and snow as a gastronomic concept".

They set to work, and on Thursday Castro presented two new Disfrutar recipes, both specifically created for the congress with snow as a concept; and water and climate change as the message. The first was a cocktail based on the "Ice Pond" created at elBulli, a glass with water frozen on the upper section only, simulating a layer of ice. The interior is filled with a cocktail, and it is presented so that the customer must break through the layer of ice to be used as the cocktail. "Ice is a texture, and it serves for thought and reflection". Andorra in concepts.

The second is also inspired by snow, and continues the logic of climate change. This means eating snow. "Who hasn't eaten it?" asked the chef as he put snow created with a crush machine on to a ceramic plate with a mountain theme. Snow, and also pineapple confit, and a bonbon with a forest fruit tree arrangement. "We want people to remember how they used to take snow and eat it, and so you eat this with your hands as if it were a sorbet". Then a waiter comes along with a blowtorch and burns away the rest of the snow, which disappears "like in real life". "This isn't just eating, it's feeding the soul". Disfrutar.

The Barcelona chef produced a number of recipes from products "to be found in Andorra", such as wild mushrooms and boletus fungi. He used them to make a "Vodkatrufa", a beverage based on vodka macerated for two months with dry or lyophilised boletus, and a boletus "coca" using a flourless pastry - with cream and obulato wafer - a crunchy pastry that may be accompanied by mountain cheese and slivers of boletus as a topping. "Both these products are a good combination, and they're so typical of Andorra".

After his presentation of an elderberry chocolate; a wild mushroom leaf produced from the fats already presented at Madrid Fusión, and a Pyrenees saffron milk cap juice - these milk caps are more watery than on the coast - on a bed of pine seeds hydrated and Ocoo-cooked, and a germination of pineapple confit, Castro demonstrated another technique that can be developed "extensively" in the Pyrenees and mountain cuisine - fermentation. "We hadn't explored this field, but fermentations can open up an incredible avenue in high-altitude cuisine".

More advice for high-altitude cookery: "You must and we must remain true to tradition, but with an open mind. Influences are positive if you know where you come from". Ovation. Opening up the mind to find another way of working with local produce. Andorra Taste.

More wild mushrooms and more ideas for Andorra by Nacho Manzano

Another chef who arrived in Andorra - "a country with potential to develop into a gastronomy benchmark" - to make his contribution to the discussion of high-altitude cuisine was Nacho Manzano. The chef at Casa Marcial**, a restaurant which is located at an altitude of 400 metres (Arriondas, Asturias) but also meets many of the criteria of this kind of cuisine - rolling countryside, "where we lived off cows and milk" - cooked two recipes described as "eating the scenery": Slivers of matured raw cow sirloin and pickled turnip with pieces of the cow's marrow and an algae butter vinaigrette, "genuine sea-cum-mountain", and a recipe of wild mushrooms and semi-raw mushrooms in a traditional stock from Casa Marcial - "hinterland-cum-mountain, very much Andorra" - based on a poultry consommé with an infusion of frozen wild mushrooms and mushrooms.

The Asturias chef rounded off his talk with more nods to the host country, suggesting products and concepts to be worked on. One of the products was chamois, "game you also have here, which has a huge range of possibilities". The idea, like Castro, is to take on board other cultures without forsaking one's own culture. Manzano explained that Casa Marcial pays homage to the mountain cuisine of Cantabria and Asturias with "boroño", a popular festive recipe he recreated with low-temperature smoked dewlap, similar to kimchi. "Why not call it kimchi? The fact that we cook local recipes doesn't mean we can't pay tribute or take up ideas of techniques we appreciate". Same message. Same ovation.

Cooking volcanic territory

Fina Puigdevall (Les Cols**, Olot) arrived in Andorra with her three daughters, who now play a major role at the restaurant. They are Martina Puigvert, head chef; Clara Puigvert, who runs the floor, and the youngest, Carlota Puigvert, who helps out in the kitchen. The foursome's talk presented some of the starters nowadays at the restaurant, located in the middle of volcanic territory in La Garrotxa. All of them, of course, are with the local produce, the produce they work with, "untravelled produce". The four also explained their stance in relation to the restaurant's sustainability, with a circular system that reduces emissions. But, "we aren't self-sufficient. We like working with local producers, but we are fully aware of the product's traceability".

The Puigverts also explained their liquid complements and macerations, many of which stem from the ingredients in their plantation, and gave an update on the new plantation-biological restaurant which they are in the process of creating and which also contains animals, "in an integral sustainable system to boost the quality of products and protect the environment".

From cattle breeder to cattle breeder

The event kicked off with Jordi Puy and Oriol Rovira, owner and chef of Les Pardines, who explained how they started up their project for a boutique hotel and restaurant in a "borda" farmhouse in Andorra. Puy explained how his generation decided to remodel the business while not forsaking values, preserving heritage and maintaining the traditional activity of the "borda", and so "we looked for another local, another mountain man, to share these values", and they found Rovira. "I pitched in because we have a similar lifestyle, as both families are cattle breeders. I realised they love the territory, and you can't buy that kind of thing".

So it was that Les Pardines 1819 opened in December 2020, a produce restaurant serving up full sections - "with the handicap that entails in a restaurant, but with the confidence that this is how it used to be done, and that tradition must survive" - explained Rovira as he presented a recipe with different kinds of tomato, all from the plantation. El Berguedà (where Rovira runs the Michelin-starred Els Casals) is Pre-Pyrenees. Encamp (where Les Pardines is located) is pure Pyrenees. Both mountain concepts, at the end of the day.


Magazine