News
High-mountain cuisine showcased at the first Andorra Taste congress as cooking that "creates the least waste and puts natural resources to the best possible use"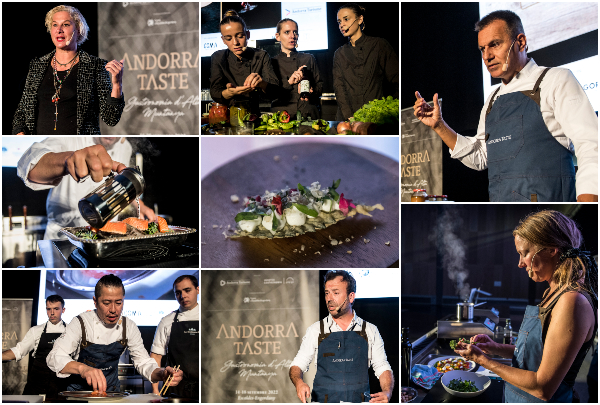 Chefs such as Oriol Castro (Disfrutar), Nacho Manzano (Casa Marcial), Francis Paniego (El Portal), Ana Ros (Hiša Franko) and Rodolfo Guzmán (Boragó) share knowledge, recipes and ideas in Andorra, "a country with potential to develop into a gastronomy benchmark".
"We had never stopped to think that snow, something so normal for us, could be just another ingredient in our cooking". This remark by Andorra chef Victoria Kemerer, after examining the recipe specially created by Oriol Castro (Disfrutar) for the congress, sums up the spirit sought and obtained by Andorra Taste, the 1st International High-Mountain Gastronomy Congress, which finished up on Friday in Andorra. The spirit of sharing experiences among mountain territories and serving as mutual inspiration.

A total of three congress days, 23 talks, five food events and several round tables made up a congress bringing together high-mountain cuisine from all over the world - "present and future cuisine", in the words of Michel Bras - and streamlining local Andorra cookery and projecting it towards the future. "There will be more congresses", said the head of Vocento's Gastronomy division, Benjamín Lana. Work in progress. Ideas will germinate. "Andorra has potential to develop into a gastronomy benchmark", claimed Nacho Manzano. The first step has been taken.

"High-mountain cookery is cuisine, it is the future"

The potential of high-mountain cuisine was certified by the main guest at the congress, French chef Michel Bras, in the Principality to collect the Andorra Taste Award, the event's prize in recognition of his revelation of vegetable cuisine to the world and "for acting as a role model for so many other chefs, as we have seen here. He has been with us for two days and we have seen him during the talks as just another congress-goer, modest, only speaking to explain that cooking means sharing", said Lana.

The French chef expressed his gratitude for the award, adding that "mountain cuisine is present and future cuisine because it is the most sustainable kind of cooking, cooking that makes the best possible use of food. Mountain cuisine is also respect, it's a connection to nature, and we can't pull any tricks against it. We have to go back to the seasons, listen to the field, and mountain people can do that kind of thing".

The message conveyed by Bras served as a common denominator for the congress, where speakers at successive talks and meals addressed issues such as the need for specific regulations for direct sales by local producers, more research and development of produce, and the need to preserve mountain societies and their lifestyles, as guarantors of biodiversity and the sustainability of ecosystems.

This was how the spirit of the congress was described in the closing speech by Benjamín Lana, head of Vocento's Gastronomy division - "after these days of work and communion, we can now say that mountain cuisine exists. And it is something very real and powerful". Betim Budzaku, CEO of Andorra Turisme, agreed and praised the congress, "which can help Andorra become a reference", and called for a repeat, "to surpass the first congress, already first-class".

It was also a success in terms of the visible result of the discussions: the "Andorra Manifesto for the future of mountain cuisine", which was drawn up during the congress, and will be presented when the cooks and producers involved have finally signed it.

Ana Ros: "High-mountain cookery is the future"

The last day of Andorra Taste featured the world's best chef in 2017, Ana Ros (Hiša Franko**, Kobarid, Slovenia), who arrived from the Alps on a mountain-twinning expedition to confirm that "high-mountain cookery is the future" because, among other issues, "our food cost is 30%, much lower than other restaurants. Mountain restaurants work with every part of the ingredients, out of necessity", she explained. The event also featured Hideki Matsuhisa, the only Japanese chef with a Michelin star in Spain (Koy Shunka, Barcelona), and an outlet in Andorra (Koy Hermitage), whose amusing talk offered some practical advice on how to make sushi, remarking that "if a sushi restaurant is good or bad it's nothing to do with the product, but how it's worked".

The talk by Albert Boronat (Ambassade de Llívia), the Catalan who carries out "cross-border cuisine" in a Spanish enclave in France using a French product with a Catalan technique or a Catalan product with a French technique, and the talk by Andorra chefs Dolors Pal and Josep Maria Troguet (Borda Raubert, Encamp), explaining how "bordas" have been a feature of the daily lives of the people of Andorra"; Marcel Besolí, owner of a restaurant (El Celler d'en Toni, Andorra la Vella) which, although it is not a "borda", has also continued to follow the wake of traditional cuisine, and Victoria Kemerer and Pablo Pérez (Kökosnøt, Andorra la Vella) with fusion cuisine in connection with the territory, rounded off the congress.

Andorra Taste Popular

These chefs will be staying in Andorra Taste with a stand at Andorra Taste Popular, the gastronomy space which started up on Friday at calle Veedors in Escaldes-Engordany. The popular version of the event features more than a dozen Andorra restaurants, along with showcookings and activities for the youngest, with free admittance. Andorra Taste Popular will continue until Sunday afternoon.

Three days of talks and mountain pride

Over the three days of congress, the Andorra chefs have shared their stage and secrets with chefs from Spain and the whole world, generating a global mountain cuisine community, even though many of their restaurants are not high-altitude. The latter mostly contributed ideas and suggestions, which were accepted by the former. This was the case of Oriol Castro (Disfrutar**, Barcelona), who cooked up snow and offered reflections on climate change; also Francis Paniego – who does have a restaurant in Andorra (the Michelin-starred Ibaya) - with tobacco leaves - a typical product bought and produced in Andorra - and Manzano, urging them to accept influences without forsaking their own location. Another of the great ideas at a congress that has put down roots. "With time, and work, Andorra will be as widely acknowledged for its gastronomy as for its different cuisines", concluded Benjamín Lana.


Magazine