News
High mountains and the hinterland: freshwater fish. First session of talks at Andorra Taste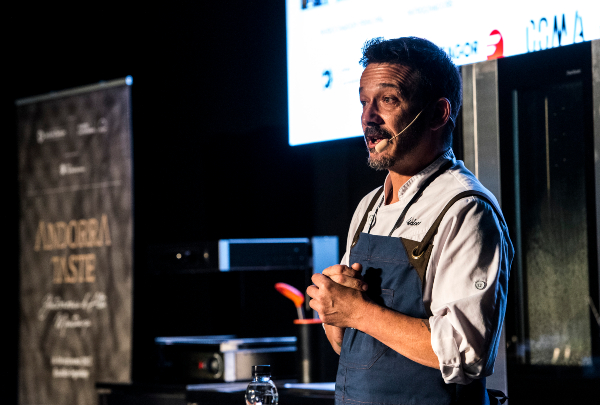 Andorra's prime minister, Xavier Espot; the minister of Tourism and Telecommunications, Jordi Torres, the deputy president of the Escaldes-Engordany "comú", Quim Dolsa, and the head of Vocento's Gastronomy division, Benjamín Lana, inaugurated the first Andorra Taste congress this morning. The Prat del Roure auditorium in Escaldes-Engordany brought together around a hundred congress-goers to start off three days of talks to "generate an exchange of enriching experiences for one and all", explained Torres; an exchange of realities among chefs working at altitudes of over 1,000 metres or in extreme climatic conditions that "will make Andorra the world capital of high-mountain cuisine", added Lana.

A start was made on this objective on Wednesday, with a focus on freshwater fish. This was touched on by the chef of the restaurant in Formigal (a village in the Huesca Pyrenees located at an altitude of 1,550 metres, with a population of only 60 throughout the year), Diego Herrero, explaining the secrets behind the success of his cooking, which is "global cuisine, albeit with local produce we love explaining to diners". Local cuisine with some Basque influences (this is a Basque chef), and also Asian touches (he travelled around there for two years), home cooking "which also sometimes visits India, Nepal or Barakaldo".

Herrero produces a salad of green chickpeas, "a product which was sent to us by chance by Mari Cruz (a producer), and we fell in love with it". The salad contains potatoes from Sallent de Gállego (a nearby village with "high-altitude crops, much tastier"), beefsteak tomatoes from Barbastro (also located in the province), kimchi and coriander, "from my travels". Another explanatory recipe: rice "from producers in Alcolea de Cinca (a village close to Formigal) with wild mushrooms we pick ourselves"; somewhere between creamy and fried, also with miso, soya and "a sheep milk yoghurt from a local producer".

Next up, fish: "Since we are where we are, we don't use fish from the sea; only freshwater fish". High-mountain coherence borne out by smoked trout with oyster sauce. Herrero rounded off his talk with a doughnut made with lichen, an ingredient he is particularly fond of due to its smell of dampness and woodland. Vidocq.

Andorra recipes

Miquel Canturri (Minim's, Andorra la Vella) and Carles Flinch (Can Manel, Andorra la Vella) made a stand for traditional Andorra cuisine, specifically in freshwater fish recipes, dry and in brine. Canturri touched on cod, conger eel and "arengada" (salted sardine), which are very popular in the Pyrenees because "they can be stored all year long". The man who was also secretary for Culture and Tourism in the Andorra la Vella "comú" dwelt on the use of conger eel by cooking an "escudella" vegetable stew with the fish along with beans, rice, potatoes and a Catalan "picada" paste as a base, "a recipe which was documented in Andorra as far back as 1786, but which is dying out, because conger eel is less popular". Canturri therefore feels "that these recipes should at least be documented so that they don't die out".

Carles Flinch, from the restaurant which hosted the congress's traditional opening dinner, discussed traditional cuisine in the shape of a nettle soup with flatfish and caviar ("the hardest part of this recipe is picking the nettles, because they sting", he joked), pig trotters with langostinos and Andorra honey (we're now seeing many more local products and producers"), and "his own" ceviche, with figs, wild mushrooms and river trout in tartare sauce, "with blackberries or pomegranates, depending on the season". According to him, the idea is "to cook on the basis of Andorra recipes, contributing something different, but keeping our feet in the territory and maintaining the focus on its produce". The last example, his "AND" sushi, a nigiri trompe l'oeil, but with "trinxat" cabbage tortilla instead of rice, and "panceta" bacon instead of fish".

Magazine