News
Michel Bras, Andorra Taste Award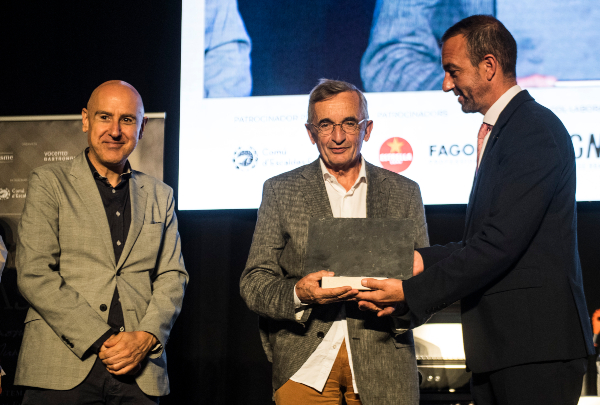 The Laguiole genius picked up the Andorra Taste Award on Thursday, the first award at the first International High-Mountain Cuisine Congress, running in the country of the Pyrenees until Sunday.

Michel Bras took the award from Andorra's minister of Tourism and Telecommunications, Jordi Torres, the deputy president of the Escaldes-Engordany "comú", Quim Dolsa, and the head of Vocento's Gastronomy division, Benjamín Lana, who confirmed that Bras was the best possible recipient. "He deserves this for all he has done, for revealing vegetable cuisine to the world well before it became fashionable, and he deserves it for what we have seen here recently. He has been with us for two days, and we have seen him at the talks just like any other congress-goer, listening and learning, modest, explaining that cooking means sharing. An example and an honour. A most well-deserved award".

The French chef went on stage to pick up his award, and expressed his thanks "not so much for the prize, because I have no interest in prizes, but for how important this congress is. Mountain cuisine is present and future cuisine because it is the most sustainable kind of cooking, cooking that makes the best possible use of food", he said. And he elaborated on the subject: "Mountain cuisine means respect, it's a connection to nature, and we can't pull any tricks against it. We have to go back to the seasons, listen to the field, and mountain people can do that kind of thing".

Bras also called for an end to food wastage, "which my mother never indulged in when she was cooking for us at home. She used everything. We must go back to that status, especially because cooking means love for others, and cooking means happiness".

The French chef finished his talk by congratulating Vocento's gastronomy division and Andorra for organising this congress, but he asked for a repeat: "I suggest a congress focusing on daily foodstuffs, the food we eat at home, the food eaten by the elderly or people with disabilities". Benjamín Lana, head of Vocento's gastronomy division, took due note.

Merci et félicitations, M. Bras!

Magazine