News
High-altitude cuisine with local produce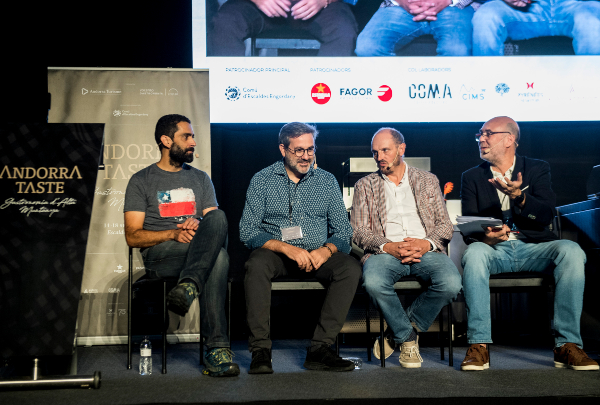 After the opening ceremony, Andorra Taste moved on to a talk by Óscar García from Baluarte (Soria), and a round table about the singularity of Andorra's produce.

Chef Óscar García from the Baluarte restaurant (Soria) is now one of the standard-bearers of high-altitude cuisine. "In terms of orography, Andorra and Soria are very similar", the chef began. He focuses on working with local produce - one of the messages we will be seeing most frequently during this encounter - and specialises in wild mushrooms and truffles. In fact, 25 years ago Óscar was one of the first organisers of gastronomy conferences on mushrooms. "It's quite commonplace these days, but it wasn't at the time".

García explains that the secret of his restaurant's success - they have a small team - is to work on long processes first thing in the morning for a better service focusing on three or four items. "Otherwise, it wouldn't be feasible", he says. His fare features local produce and recipes with "flavour, a lot of flavour".

To demonstrate his culinary skills, García came up with four recipes and a pre-dessert: Duck breast marinade in sauce and roasted fennel; spring onion with vinaigrette and smoked sesame bacon; boletus fungi with Soria butter pine seeds and summer truffle; trout with ham and meringue with nut "garrapiñada". "We use a different ingredient for the marinade - duck grease and paprika. And the bacon in the spring onion recipe is smoked. We try to make local produce a little different, to make it more authentic", he adds.

The chef claims that, even though everyone talks about proximity cooking nowadays, this has always been their modus operandi. The product has also been one of the main characteristics of their recipes, and "we try to make sure it contains crops grown above 1,000 metres". A way of upgrading the territory, the producer and the surroundings.

The stage was then turned into a round table for discussions among several local producers. Pyrenean chef Josep Maria Massó, Gerard Martínez, manager of Ramaders d'Andorra and José Antonio Guillermo, from the Odetti restaurant (Escaldes-Engordany, Andorra), led by Toni Massanés, head of the Alícia Foundation, debated singularity of Andorra's produce.

There have been significant developments in agrofood production in Andorra, which now accounts for only 0.5% of GDP. "We have now extended the range of the products we use", explained J.A. Guillermo - "there are some seasonal products that can be applied to gastronomy. We have more than 25 varieties of wild mushrooms alone. This is paradise. And it's the same with wine. There are now four local wineries. The same is true of vegetables, and we can even use the old tobacco fields to increase crops. This is the direction in which we are and should be working". His colleagues agreed, and added "we must also rescue traditional cuisine wherever this produce can be applied. There are many young people here who want to do things", claimed Massó. "We've succeeded in implementing quality policies and becoming the sole distributor of meat, in order to ensure that what's sold to butchers, restaurants and other groups is local produce, produce from here. It's a way of upgrading the surroundings, protecting the producer and biodiversity, and enabling the new generations to earn a living from this", said Gerard Martínez.

The participants proffered some persuasive data. Work has been ongoing in recent years to retrieve certain breeds of cows - such as the "bruna", among others - and on cattle genetics to boost their quality, on more natural forms of fodder, with no antibiotics or growth hormones, and also in terms of bringing back traceability to ensure that products are local-

And what about the future? All three are working in the same direction: getting professional chefs, the general public and diners used to eating seasonal produce; concentrating on local products to protect the environment and enable the local population to live in their own territory, and educating people on the rich gastronomic potential of their surroundings. This is the only possibility for a better future.




Magazine