News
Gastronomy linked to the landscape by Paniego, Manzano, Puigdevall and Óscar García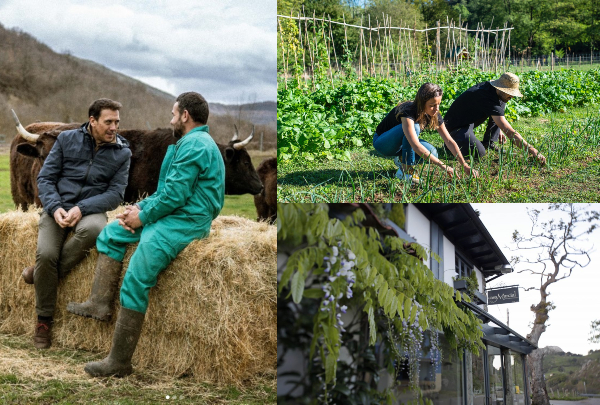 The representation of Spanish chefs will be very important in Andorra Taste, headed by Andorra's only Michelin-starred restaurant will also be represented at the congress by Francis Paniego and Jordi Grau (Restaurante Ibaya* Soldeu, Andorra). A project that reflects the symbiosis of the cuisine of Andorra and La Rioja, at one of the Principality's best hotels, the Sport Hotel Hermitage & Spa, at the foot of the Grandvalira ski slopes. Paniego is also a skilled wizard in both aspects of Spanish cooking. On the one hand, he remains faithful to the style he learned with Ferran Adrià and Arzak, and on the other he maintains, refines and positions the classic recipes of the La Rioja cuisine he inherited from his mother on the palates of new generations.

The list of Spanish Michelin-starred chefs also includes the winner of the National Gastronomy Award as Best Head Chef 2021, Nacho Manzano (Casa Marcial** Arriondas, Spain). He is an intuitive chef who has modified traditional Asturias cookery without discarding any of its virtues. The chef of freshness, the chef of "just" produce: just harvested, just gathered. A chef who allows himself to roll as the seasons go by, and allows himself to be guided by the evocative impact of primary smells. He also believes that the only frontiers erected in cookery are the frontiers one erects oneself. His recipes are a prolongation of his way of understanding life, squeezing out localisation and tradition as a starting point to create his own culinary language.

The list of speakers also features Mateu Casañas, Oriol Castro and Eduard Xatruch (Disfrutar** Barcelona, Spain). They run the world's fifth best restaurant, according to The World's 50 Best. Disfrutar emerged after years of intense toil at elBulli, where the three chefs met and trained professionally. Daring, amusing, modern cuisine, clearly cutting-edge, where recipes demonstrate great personality. The former head chefs at elBulli are still 'Bullians' who continuously question the established order, but they also seek perfection and narration in the menu, not just surprises.

Andorra Taste will also feature Fina Puigdevall (Les Cols** Olot, Spain), who has run Les Cols since 1990, a restaurant set up at the "masía" farmstead she grew up in, and which was the location for her personal project and also where she brought up her family. Daughters Martina, Clara and Carlota are following in her footsteps in a business they operate as part of their raison d'être, in harmony with the surroundings, and focusing on La Garrotxa produce: buckwheat, La Vall d'en Bas potato, maize, country fowl, Santa Pau beans, chestnuts, turnips, fungi etc. Mother and daughters understand gastronomy in the same way, in connection with a landscape, a history and a product.

Courageous, clever, canny and daring, Óscar García (Baluarte* Soria, Spain) learned the trade on his own. He learned to cook from Arzak's books, and learned off Ferran Adrià's easy recipes by heart. He went on a course with Quique Dacosta, and also spent a couple of weeks with Martín Berasategui, which made their mark on him. He makes a stand for his roots by concentrating on the product and conducting research into the gastronomy of 60 years ago. He is a staunch defender of cooking in an area of over one thousand square kilometres, Spain's depopulated "highlands". Recipes with produce and wine obtained at altitudes of more than one thousand metres, next to holm oaks 300 years old, and sheep grazing on aromatic fodder such as juniper, thyme, sage and field poppies.

French influence

Albert Boronat (Restaurante Ambassade de Llívia, Llívia, Spain) worked in France for almost 20 years, and spent half of that time with Alain Ducasse in Monaco, Paris and Gstaad (Switzerland). He was head chef at one of his restaurants in Provence, he also contributed to various books published by Ducasse, and worked on the last volume of the Grand Livre de Cuisine Tour du Monde series, which contains several of his recipes. In 2011 he was awarded a Michelin star at a restaurant owned by three-star chef Jean André Charial de Baumanière in Montelimar. His cookery seeks to return to the flavours of his childhood, and so he is inspired by both French and Catalan cuisine. His work combines tradition, evolution and quality. Ambassade de Llívia is a restaurant offering the intensity of classic French recipes, and shuns trends and modernity. A restaurant packed with culinary intentions, increasingly featuring recipes from days gone by, which are extremely difficult to produce even though they have been absent for decades.

Another chef who is well acquainted with high-mountain gastronomy is Basque Diego Herrero (Restaurante Vidocq, Formigal, Spain), who arrived in Formigal in Huesca, Aragón, 20 years ago aged only 21. Two decades on, he runs his own restaurant there, Vidocq. A stalwart defender of local produce, he works with producers to publicise local culinary gems. His cuisine is a journey of the senses to the province of Huesca, where diners can feast on eggs from Los Monegros, "latón" pork from La Fueva, Radiquero cheese or Fonz yoghurts.

Magazine