Interview
"We're a more than a shopping-and-snow destination"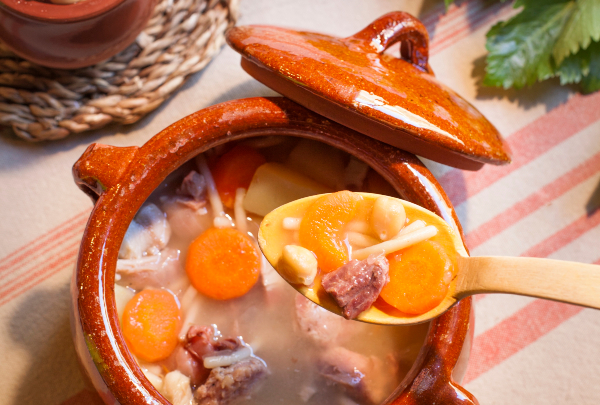 Four Andorra caterers discuss the status and development of the Principality's culinary reality. Cuisine with tradition and influences "that is at its peak".
We talked to four caterers in the Principality to gain an insight into Andorra's culinary surge. They are Carles Flinch, Dolors Pal, Marcel Besolí and Miquel Canturri, four natives - two born there, and two adopted - running prosperous businesses in the Pyrenean country, four caterers who all accept that "Andorra cuisine does exist", most especially thanks to recipes handed down and typical local produce, "although we have a climate handicap with produce", as Carlos Flinch, who manages Can Manel, argues - "traditional fare with some touches of modernity" - and who helped draw up the list of local recipes, the origin of the Andorra cuisine Corpus.

The other native of Andorra is Miquel Canturri, who runs the Minim's restaurant, also located in the capital, who, like his colleagues, offers "Andorra market cuisine, with a Spanish influence". Here, too, they also agree: the greatest gastronomic influence is Spanish cuisine, as are the Spaniards themselves, who account for the majority of their customers. "French cuisine has influenced everyone all over the world. It is Spanish cooking that has had the greatest impact on Andorra", explains Catalan Marcel Besolí (Celler d'en Toni, Andorra la Vella), who arrived in Andorra in search of snow motor rallies.

Influences apart, Besolí feels it is undeniable that "Andorra cooking has its own roots and characteristics", a variety which does not eschew cannelloni and game, the latter being more typical of "borda" farm house restaurants. "Bordas", or "bordes" in Catalan, are traditional structures in the high mountains formerly used to keep grain and cattle, and have now been converted and fitted out as restaurants. One of the most appreciated is Raubert, in La Massana, run by Dolors Pal, who insists on typical mountain recipes such as "trinxat" cabbage tortilla, meatballs or "escudella barrejada" meat and pasta, explains a chef who arrived in Andorra from La Seu d'Urgell and learned the trade alongside her mother-in-law.

The "borda" restaurants, a typical and genuine feature of Andorra, share their principles with the fare offered at the businesses run by their colleagues - respect for local produce. Chicory, honey or wild mushrooms are ingredients that are never absent from the Principality's kitchens, which strive to bring in local produce, despite the climatology. "That is our starting point, and what we can't find we get from quality suppliers on both sides of the border", explains Flinch. This means they have a source of supply and also customers, "a good time for people to realise that we're a little more than a shopping-and-snow destination", as Besolí says. Our country is a gastronomy destination now".

Magazine