Interview
Ana Ros: "Alpine cuisine exists, and it has not been claimed"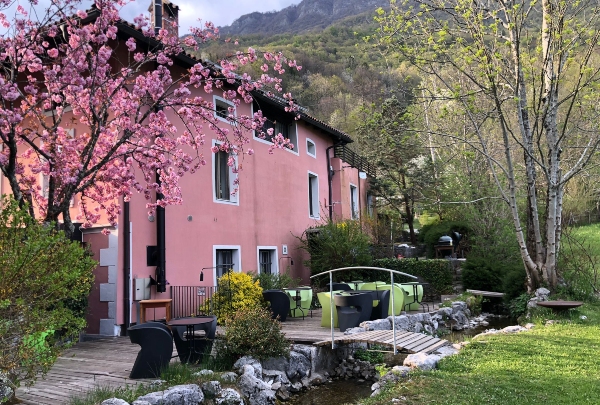 Alpine ski prodigy and Diplomacy graduate, Ana Ros is now one of the grandes dames of world gastronomy.
With no cookery studies, she went into her boyfriend's family's trattoria to stir it up and turn it into the leading exponent of proximity haute cuisine. Now that Hisa Franko has reached the 21st spot in the 50 Best Restaurants and has two Michelin stars, Ros is walking tall - as tall as the mountains around her - and has not forsaken a modus operandi she discovered after a visit to elBulli in 1999.

We talked to her to find out more about her story, the problems of bringing in staff being located where she is located, and also to understand the mountain lady, since this Slovenian chef will be one of the participants at Andorra Taste. She will be travelling to the principality to talk about Alpine cooking, a concept in which she includes her own variety. "Our cooking is similar in all areas of the Alps, because of geography and climate. We share altitude and climate conditions with some areas of Switzerland, Italy, Austria and France, and we have similar food".

How does a professional diplomat become one of the world's best chefs?

Motivation and discipline. And also because of a certain hankering for survival, the business itself, and a different way of cooking up the surroundings that can bring people in.

You fell in love, abandoned a diplomatic career, joined the family business, and gradually moved into cooking. How and when did your mindset change to say: "Let's go for fine dining"?

It was a slow, laborious process. What I can say is that it all began to move much faster in 1999 when I went for a meal at elBulli. It was my husband's birthday, and I wanted to give him the experience of eating there. I rang to book a table, and they told me it was full, with a three-month waiting list. Incredible. That was 1999 and I hadn't started cooking, but I found it incredible that a restaurant outside any large town, almost in the middle of nowhere, would have a waiting list. I rang again and insisted. They asked where I was from, I told them Slovenia, and I don't know how I got a table. They told me afterwards that they liked me because they'd never had any Slovenian customers. So we had our meal and enjoyed ourselves hugely, and when I got back home I started to take a different look at what I had around me. I had a lot to explore in my surroundings. I realised that I could express myself differently with cooking, and I began to think about what the restaurant could be like. Not long afterwards I got into cooking to start to make it all come true.

With no knowledge of cookery …

No. That's why it was frustrating at the beginning. In my head I had a lot of ideas about what I'd seen and eaten at elBulli, but I didn't know how to make them happen. I went into the kitchen and began to learn, cooking, reading books, trying things out ... I learned from the chefs who were working at Hisa Franko and also from my memories, because cookery had always been important for my family. Day after day, trial after trial, and error after error, I eventually got better and learned. And I'm still doing that. I haven't followed any particular line of cuisine because I didn't learn to cook at one school or the other. I went with the flow, and got into it. And I'm still doing that. And I'm still creating recipes from my mistakes. That's what self-learning is all about.

How would you define the Hisa Franko cuisine? Is there a Hisa Franko style of cuisine?

The Hisa Franko cuisine is Ana's madness ... No, it's respect for territory, it's using ultra-local seasonal ingredients, and it's personal creativity, by the way I relate to flavours and recipes, combining coffee, nuts, honey or potatoes, for example. On the current menu, the recipe that best expresses what my cooking is about is the chawanasumi. Because of its combination of extreme flavours of sea and land. I like it.

You always have trout on the menu, although you've changed the way it's cooked on the menu these days.

When your work is ultra-local, you have to repeat some ingredients. The list of ingredients is quite short, so we play around differently with those we have, and they are artichokes, potatoes, lamb, beef or trout, and we really like playing around with those. We used to cook them in their skin; now we cure them. I think they express the taste of the river and nature better that way. If you take a look at my recipes of three years ago, you'll see the same ingredients, but they're done differently. That's the way Hisa Franko cuisine is done. That's the way I am.

You're also changing because you've been travelling more in recent years ...

It's all connected. It's still me, but obviously your interactions with the world begin to change you. And if I travel I like to eat local food, and I come back with ideas. From anywhere. How can I do this with my vision and my products? How can I enhance the taste of that? So I experiment, I experiment again, and sometimes I get a result.

On the current menu, with almost 20 tasters, no more than five feature fish and meat as the main item. Have you scaled down the proportions?

Yes. Increasingly we cook vegetables, but we're not vegetarians. And we couldn't possibly become vegetarians because people eat a lot of meat where we're located. It's a poor area, and they eat whatever's available. On the menu, what you might call the main course, the Injera, we only use meat to bind the sauce. It's true that I'm beginning to prefer meat and fish as a way of bringing out the flavour rather than as the main ingredients.

Cheese and wine. Hisa Franko's mainstays.

They're just another reflection of our territory. There are a lot of cows, sheep and goats around the restaurant, and we use them for their milk, not their meat. That's the way it's been in our part of the world for years, so we could only reflect that. It's the same with wine. Wine is produced almost all over Slovenia. Lots of them, and very good wines in our region, which has specialised in orange wines and biodynamic wines. It sounds like a trend, but it's always been like that here. And I convey that.

Do you do any Slovenian cooking? Located where you're located, five kilometres from the Italian border, isn't your culture more like the culture of Udine (an Italian town 40 km from the restaurant) than the culture of Ljubljana (capital of Slovenia, 120 km from the restaurant)?

I don't do Slovenian cooking. I cook my area and its products, because I feel it's my duty to do that as a chef. I'm an ultra-local chef. And the location doesn't have to be understood geographically, because the products I have may be more familiar to the people of Friuli (Italian region next to Slovenia) that the people of Ljubljana.

I've heard you say that Alpine cuisine does exist ...

I do believe that Alpine cuisine as such does exist, and it has not been claimed. I don't share produce with a large portion of Slovenia, but I do share it with other territories nearby at the same altitude, making up the Alps: Switzerland, Italy, Austria, France ... We share altitude and climate conditions with some of these areas, and we have similar food. Not the same, because our Alps are closer to the sea. But they do coincide in terms of flavours and traditions.

Team. You say that at the beginning you're in no hurry to sign contracts with new staff, because at first they love being in the mountains, but they can tire of it very quickly, and can't get acclimatised to the solitude and multiculturality ...

We have 22 different nationalities in our staff. It's fun and enriching, but it isn't easy. People come and can't adapt to having to live in a village, with no leisure activities available in the middle of the mountains, with nature all around. It's paradise, but only for those who can appreciate solitude. Also, because they're isolated, the team has to be able to get on together, because they won't meet many other people in their daily round. That's why I want people on my team who meet these criteria, and most particularly humble people. It's good to be competitive, but only if it's being competitive in a positive way, with respect for your co-workers and your team. I can't stand arrogance.

Magazine